YOGA IS A WAY TOWARDS A POSITIVE LIFE
Narayan Yoga in Rishikesh offers a chance to change your life in a positive way through yoga; where everything is blissful! Because
 Yoga is the basis of existence.
Start Your Yogic life
with
Narayan Yoga
Narayan Yoga is an opportunity to start an amazing journey of yoga! The ultimate practice of yoga showers the flowers of happiness and make an individual healthier with all the three aspects, i.e., Physically, Mentally & Spiritually.
Get the detailed information about yoga and explore more just by clicking below:
Why Narayan Yoga School?
A Unique & Creative Yoga Practice
Narayan Yoga School offers yoga courses in a unique & most creative way! We make yoga practice interested for all students so that they can learn in a better way.
We consider Yoga & Music as the most crucial aspects of an individual's life and so we amalgam both the practice to make the learning interesting and loving.
Featured Courses
At Narayan Yoga School; we provide a wonderful experience to our students with our courses & programs that includes 200 Hour Yoga Teacher Training, Musical Instruments Training and
Yoga Retreat & Outdoor Activities.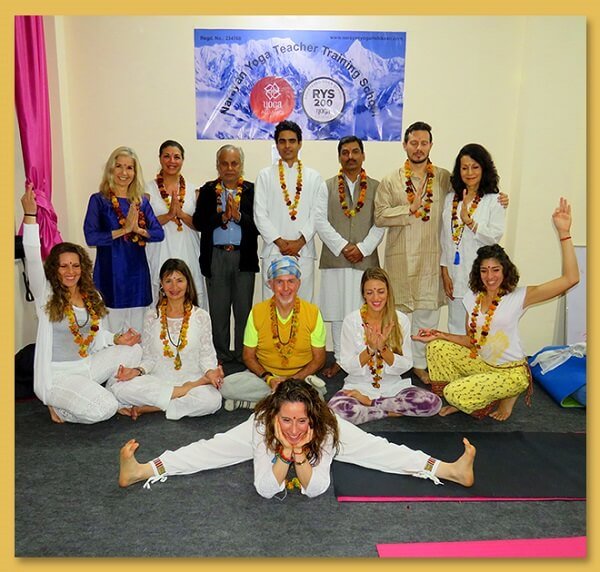 We at Narayan Yoga School in Rishikesh aims to nurture the well-being of an individual. We just make sure that you will enjoy your every moment spend at our yoga school.
Our Progress in Numbers
Total Students
The happiness of the students at the end of the course ensures us that we are going on the right path!
Years of Experience
Our experience and professional teaching makes us among the list of top yoga schools in Rishikesh, India
Targeted Countries
We are happy to see people showing interests towards yoga; not only from India but from other countries also.
Yoga Teachers & Instructors
Our Yoga School Team is having well-professional and veteran yog-gurus and yoga instructors!
Our Yoga Teachers!
Meet the well talented and professional teachers of our renowned yoga school in India! The yoga teacher at our school holds
a great professional skill and years of experience.
River Rafting Fun in Rishikesh
River Rafting Fun in Rishikesh

Student Review about Narayan Yoga

Mantra Chanting and Meditation

Traditional Pooja at Narayan Yoga Rishikesh
Narayan Yoga School - A Way to a Positive Life!
Visualization explains better than Words! Here we present the yoga & music videos by Narayan Yoga School.
The videos we present includes yoga routines, yoga workouts, yoga classes, meditation classes, music classes, instrumental music, fun activity and so on. The videos let you know the happiness of students, the effectiveness of teaching, the diligence of teachers and the enjoyment of the class.
Let's have a look at them!
I feel so grateful for all I learnt at the Narayan Yoga School. All the teachers are very gentle and teach with great professional knowledge and years of experience. They even make me believe that nothing prepares us better for teaching rather than our own will-power and solid support.

It is not wrong to say that the yoga course at Narayan Yoga School in Rishikesh has changed my life and surely I'm loving it!!!!!!!!!!

From the bottom of my heart, I'm thankful to all the teachers at the school for sharing the true and powerful gift of yoga with me. Thanks so much………!!!!!!!!!!!!!!!
Subscribe to Newsletter
& Discover more
Subscribe to our Newsletter and get all the information of all events and courses that are going to offered by
Narayan Yoga School!